ARA Rental Market Metrics™ Certification awarded to Rental360
On February 15, Rental360 achieved the ARA Market Metrics Certification from the American Rental Association (ARA). Rental360 provides modern rental software to businesses that rent assets and equipment. This certification has only been awarded to a limited number of rental software solutions. It requires the solution process over 300 contract scenarios and apply the ARA standards to produce the expected results at an accuracy level of 100%. 
The Rental360 framework fully leverages the Acumatica ERP platform. We incorporate complex algorithms and present them simply within the native Acumatica user interface. We leveraged the Acumatica Generic Inquiry, Report Writer and Dashboards to correctly communicate the expected result set. The result is a fully integrated experience that delivers accuracy to manage a rental business in a modern platform.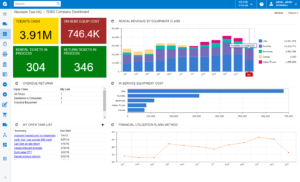 We believe this is an important milestone for Rental360 and Acumatica and is another proof point in our ability to execute and become a major factor in the rental software market. For more information, visitwww.Rental360Software.com. 
The American Rental Association (ARA) is the international trade association for owners of equipment rental operations and manufacturers and suppliers of rental equipment. The current membership includes more than 10,000 rental operations and more than 1,000 manufacturers and suppliers.