Your business is probably more than your livelihood; it also involves your reputation and your place in the community. Naturally, for economic and other reasons, your business must operate smoothly and efficiently. That's where a full-service, fully integrated ERP (Enterprise Resource Planning) solution such as Acumatica comes in.
In recent years, Cloud-based ERP (Enterprise Resource Planning) software has really come into it's own. Business owners are seeing the value, versatility, scalability, and convenience of deploying their ERP solutions in the Cloud. An ERP solution that operates in the Cloud can eliminate some of the risks that business leaders face.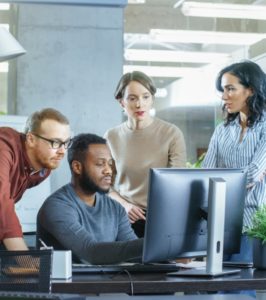 At NexVue, we like to anticipate and deflect risks before and during the implementation process. When preparing to go live with a Cloud ERP solution, we create a separate check list, step-by-step in sequence, detailing who is responsible for each step. We go through 3-4 dress rehearsals to ensure that everything is done properly by the correct people.
Depending on the size of the company and the solution being implemented, there's no rolling back – so everything needs to be pitch-perfect for the final launch. To ensure that accuracy, we create a very detailed list, not just at the task level – we detail which fields need to be changed or updated, who's going to do it, and in what sequence.
We are also constantly taking system snapshots and back-ups so that if something goes wrong in the middle, we don't have to start the process from scratch.
As part of the implementation process, we ask the client to develop cases or scenarios of all anomalies that can happen in the business. We're more concerned about, not the 99% of transactions that go through normally, but the odd-ball type of activities such as:
Returns
The paper goes into the printer wrong
Mis-shipment
Damage
Vendors Over-ship or Under-ship
For each of these anomalies, we create test scenarios and ensure that everyone knows how to handle them either in the system or outside of the system with policies or procedures.
The true advantage of cloud ERP systems goes beyond the benefits of the cloud and is more about the benefit provided by a modern ERP solution. While transactional accounting systems helped people operate more efficiently, modern cloud ERP systems have the breadth to enable more people in the organization to operate effectively.
NexVue Information Systems has the situational fluency to understand your business. We apply our experience and what we've learned throughout our career in the industry. We know our ERP applications beyond their configuration and truly understand what happens behind the scenes. We use reason and problem-solving skills to come up with the best solutions to optimize your operations.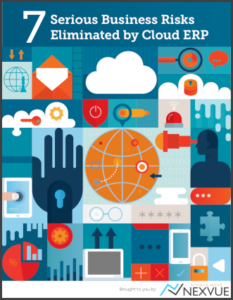 NexVue Information Systems has participated in a white paper: 7 Serious Business Risks Eliminated by Cloud ERP.
Download the whitepaper and learn how your business can be more risk free in areas of compliance, security, productivity, accuracy, and customer protection.
If you're ready to learn more about Cloud ERP and how it can benefit your business, contact our experts at NexVue Information Services.