In a previous post, we described nine important questions to ask a potential partner in an ERP implementation in order to ensure you end up with the right provider for your business. Today we will look at the other side of that coin, NINE POTENTIAL WARNING SIGNS TO SEND YOU RUNNING.
Looking for a new ERP partner? Get the eBook "9 Questions Nobody Asks Their ERP Partner…But Should" here.

YOU ONLY MEET SALESPEOPLE, BUT THEY PROMISE A FULL IMPLEMENTATION TEAM
As part of the 'get to know you' process you should be meeting team members from various departments. If your point of contact within the sales team is unable or unwilling to put you in touch with members of their implementation and support teams, this is a huge red flag. An unwillingness to engage across teams could mean that their support is not up to the caliber required for your implementation.
NEGATIVE EMPLOYEE REVIEWS ON GLASSDOOR
As we stated in OUR PREVIOUS ARTICLE it is vital to check employee reviews on sites such as Glassdoor in order to get an idea of the culture with a potential partner. While positive reviews can indicate a quality match, the opposite is also true. Negative reviews may mean a company does not value the employee experience, always a red flag about the company culture. If a company does not take care of its own people, can you trust them to take care of your implementation?
LIMITED SERVICE CAPABILITIES
The right partner for you must be able to meet all the demands your implementation may end up requiring. If your chosen partner is unable to provide such key features as customization options or technical support, they are not the right partner for you, regardless of how good their sales pitch is. Every project will require some form of technical support, a partner who can't provide that support is not the partner you want to choose for a project as important as a new ERP implementation.   
NOT FOCUSED ON YOUR UNIQUE NEEDS
Conversations with your potential partner should always focus on what they can do for your business specifically. If the provider focuses more on 'out of the box' functionality and standard features, this could be a warning sign that they may not be up to the job of meeting your industry-specific needs. Every implementation is different, and if a potential provider refuses to engage on your business-specific processes, it is a clear sign they are not the right partner for the job.
LACK OF INDUSTRY KNOWLEDGE
One sure-fire way to sink an implementation is to partner with a provider who does not understand your specific industry. While some knowledge gaps, especially when it comes to the deeper concepts that are not shared across multiple industries are understandable, they should be able to be addressed easily, building off an existing knowledge of your industry. If, in the discussion of your project, you find yourself having to explain basic concepts of your industry, it is a clear warning sign that you should be heading for the door, they are not equipped to provide you the support you need.
THEIR PROPOSED HOURS ARE FAR LESS THAN OTHER ESTIMATES
If something sounds too good to be true it usually is. If a prospective partner gives you a quote for how long an implementation will take this is dramatically lower than the other estimates you have gathered, this is a sign that something is likely missing. No sales team will ever admit to cutting corners, but a drastically lower estimate of completion is often a sure indicator of just that.
INCOMPLETE PROPOSAL
If a prospective partner's proposal is missing key components, such as post-implement support and training, they are not the provider you want to choose. The post-implementation phase can be just as vital as the actual implementation in ensuring that your chosen solution provides your business with the maximum benefit, and partnering with a provider who does not offer post-launch support can prevent your business from achieving its maximum potential benefit.
SLOW RESPONSE TIME
If a prospective partner's follow up time during the sales process has been slow, such as a delay in returning calls or emails, there is little reason to expect to see an improvement in response time after choosing them as your partner. A delay in response can not only indicate poor communication skills with you as a client, but could easily point to poor inter-team communication, which could cause major issues for your project. Delays in response can also cause issues for your employees as an extended wait for guidance can cause work delays, lost productivity, and frustration. An occasional delay in responding can be excused, as circumstances sometimes arise preventing timely communication, but if it is a trend, it is a major red flag.
THEY CAN'T PROVIDE REFERENCES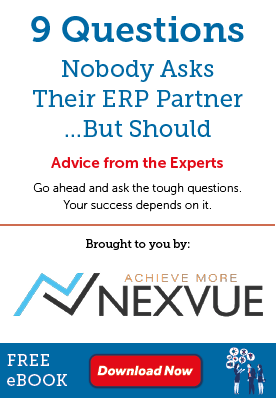 If a prospective new employee showed up to a job interview but was unable or unwilling to provide references it would be an immediate non-starter. The same should be true of a prospective technology provider. As part of the interview process you should be asking for previous clients to contact as a matter of course, if a potential partner is unwilling to do so that is a huge indicator that something is amiss, and you should be heading the opposite direction. There is simply no legitimate reason a trusted and successful ERP provider would be unwilling to provide you references.
By keeping these nine red flags at the front of your mind as you search for an ERP partner you can ensure that you end up making the correct decision for your business by selecting the right long-term partner for your ERP needs.