Acumatica Summit 2020 took place in Las Vegas this week with a future-focused emphasis that demonstrated that Acumatica is not just the world's fastest growing ERP company, it's a technology company committed to delivering value to its users.
"ERP is generally known as a system of record," Ajoy Krishnamoorthy, VP of Platform Strategy, said. "Our emphasis is to turn it into a system of results."
Acumatica accomplishes this task through a commitment to continuously keeping the technology current so that it can support both people and processes and enable their customers to "future-proof" their businesses. This commitment to constant innovation and improvement is evident in that 74% of all Acumatica employees are in R&D positions.
Chief Product Officer, Ali Jani, described it like this:
"It's a lot more than technology. It's how Acumatica combines these technologies together to provide value to our customers with their processes and people. As a technology company and a platform company, we completely refresh our platform all the time."
The results of this constant innovation is that Acumatica is delivering a superior user experience, both through flexibility, ease of use, seamless integrations, automation, personalization, and quality updates to the ERP platform, as well as by providing a company, product, partner network, and secure platform that is trustworthy.
While there was a lot of excitement around the launch of Acumatica 2020 R1, Acumatica also leveraged the Summit to demonstrate business scenarios where new and emerging technologies will play an increasing role of enabling collaboration among people, software, and devices.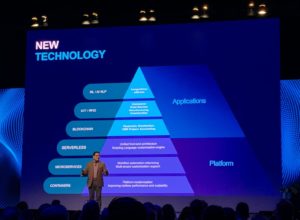 Ajoy Krishnamoorthy demonstrated the capabilities of AI and ML for predictive, prescriptive, and automated outcomes such as image recognition, weather tracking with ClimaCell service, and language translation. He also showed real-life examples of IoT devices and robots driving automation and efficiency.
#AcumaticaSummit demo of robotic integration with picking and shipping in warehouse! pic.twitter.com/jw84omzjBV

— Jon Roskill (@Jon_Roskill) January 28, 2020
The image recognition piqued the most interest from our Director of Business Development, Douglas Beckerman. "The ability for a user to upload photos into Acumatica, have AI automatically understand what they are pictures of and catalog them so that they are searchable without the user having to write descriptions, and then to have the image search results improve over time thanks to Machine Learning is very cool and something that will be hugely helpful to our clients as they improve their business processes."
Acumatica is on the front lines in terms of zero touch automation, interactive assistance, and intelligent advisor capabilities thanks to it's adaptable platform with an Open API that is ready to integrate these and other new technologies.
With its commitment to development, flexible, open platform, and focus on the driving customer value, the future continues to be very bright for Acumatica, and Acumatica is ready for it.
Want to learn more about the future of technology with Acumatica? Let us know when you're ready to talk!