For food distributors, enhancing your route optimization not only helps you keep your customers happy, but also helps to keep your costs low and your margins as wide as possible by saving on time and gas while reducing spoilage with prompt delivery.
These are priorities year-round but seem especially significant for cold-food distributors now, in the hottest days of summer, when delivery times are critical to ensuring that your products and profits don't literally melt away!
Tech Tactics for Better Route Management
One of the key ways that Prime Food Service Software meets the needs of food distributors is in the way it handles route management.
There are two key elements to Prime Route Management: Routes and Trips
A route consists of one or more trips. Each route is assigned a number, a day of the week, and a cut-off time. On the route, you can see all of the possible stops or customer locations that could be on that route in the most geographically advantageous order. However, any stop can be dragged and dropped to change the order as needed.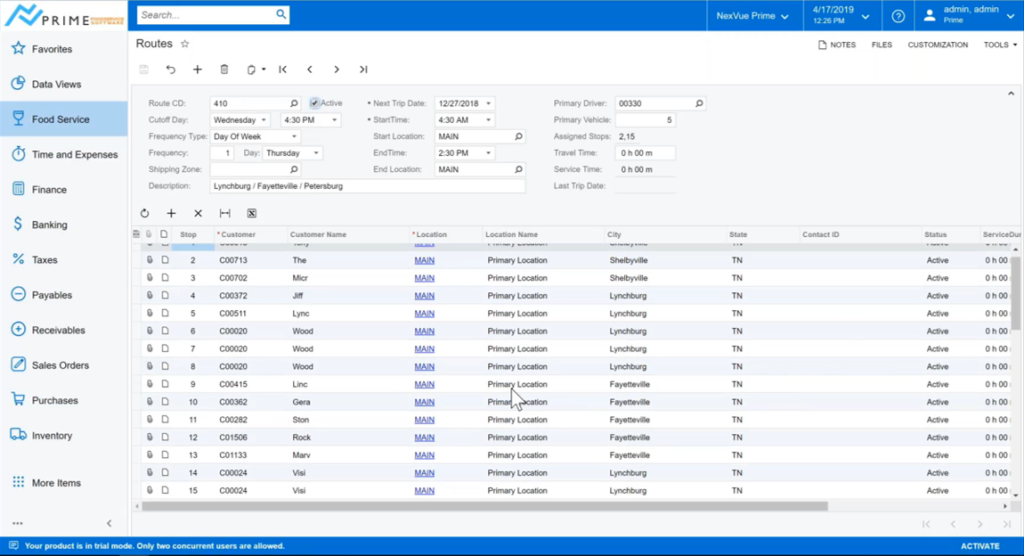 Once a shipment comes in that would be placed on a route, a trip is automatically generated.
Trips beginning in the "Planning" status, are moved to "In Process" once they are in route, and then eventually get "Completed". Each trip can also be attached to a zone and will be labeled with its parent route. You can also see the starting warehouse location, in case the product ends up elsewhere, the driver assigned, the vehicle to be used, and other metrics about travel and travel time.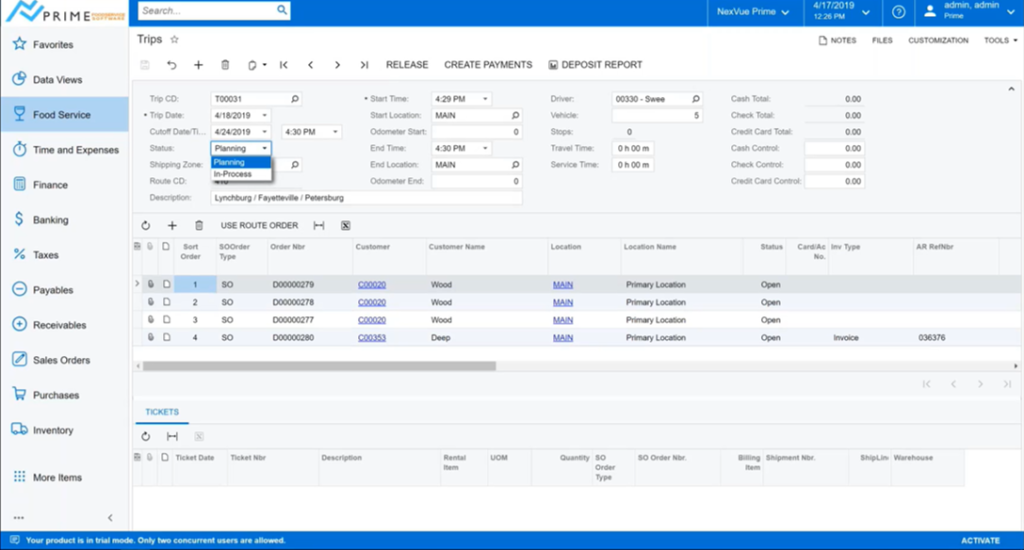 Within a trip, stops will be ordered based on the sequence of the route, but can be re-ordered as needed.
A Mobile Solution for a Business On-the-Go
Prime is completely accessible through a mobile app, so drivers can have all of the necessary trip information available to them on a mobile device. At each stop, the system captures GPS coordinates to confirm routing information and they are able to record cash. Drivers are able to record the amount of cash received, the form of payment, whether it was check or cash, or accept credit cards and align it with the invoice.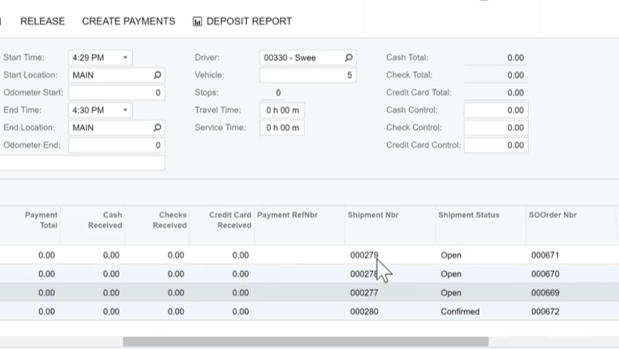 When the driver returns, you can total the amount that the driver has collected and reconcile the amounts with whoever counts the cash to confirm that the totals agree. If the numbers align, you can release it and it will apply the cash to the invoices. You will then get a deposit report for bank reconciliation.
See first hand how Route Management in Prime FoodService Software can help you optimize your deliveries and maximize your profits! Watch our demo webinar today!