Implementing a new ERP system is a huge project for any business, one that requires many moving parts and can often be seen as a big risk. If the right partner is chosen, however, the benefits are not just business related but also financial, as evidenced by a recent report published by Forrester. The report singled out several key areas where the interviewed companies saw financial benefits after switching to Acumatica.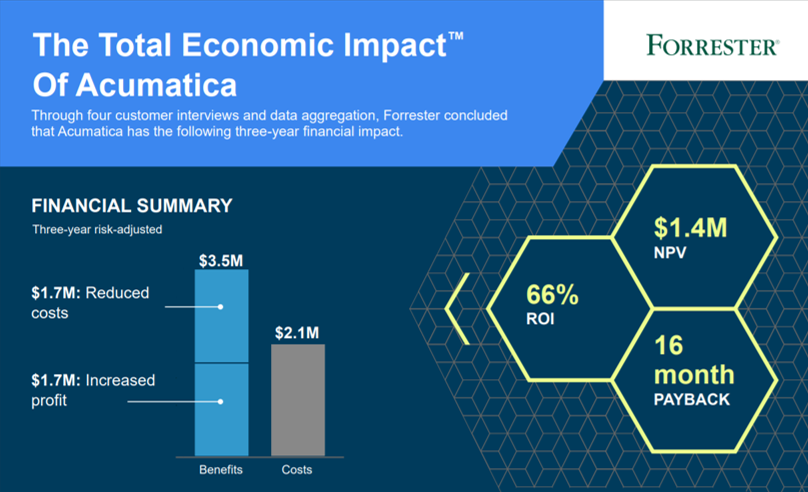 INCREASE IN GROSS PROFITS
The marquee statistic in any financial report is always profits. Companies that took part in the interview process for the report recorded a fifteen percent increase in gross profit over the three-year period for a total of over 1.3 million dollars. This is achieved by increases in visibility in the system leading to greater efficiency, allowing more money to be saved in areas such as reductions in labor costs, increasing quote accuracy, and by using the increased visibility to focus on their highest performing products.
LEGACY ERP MAINTENANCE SAVINGS
Another key area of savings reported by companies who switched to Acumatica was the drastically lower cost of maintenance compared to legacy ERP systems, beginning with having only one system to maintain, as opposed to several interconnected systems. This, combined with not needing several costly licenses, was a huge money-saver for the interviewed companies. Additionally, Acumatica is a cloud-based solution, eliminating costly server upkeep. A final key saving is the decreased need for extensive system customizations, which are always costly.
SALES INCREASES
The interviewed companies reported a 15% increase in sales after switching to Acumatica. This is due primarily to Acumatica's ability to accelerate production timelines while keeping overhead the same. Additionally Acumatica enables sales reps to be more efficient by housing all the needed customer data in one easy to find place, arming their reps with more high-quality leads, increasing the chances of success.
SAVINGS ACROSS THE BOARD
By employing a modern, agile ERP system companies take a leap in to the modern era of operating, and by choosing to partner with industry-leader Acumatica companies will see key financial benefits. From savings on operations to increases in sales, companies report increases in gross profits over time.