Implementing a new business management, or ERP, solution is almost always a company-changing process, especially when upgrading from a legacy system to a modern, agile solution such as Acumatica. In a previous article, we outlined the financial impacts upgrading to Acumatica can bring to a business. In this article, we will detail more qualitative gains, those in the realm of user experience and organizational impact for the companies who made the switch.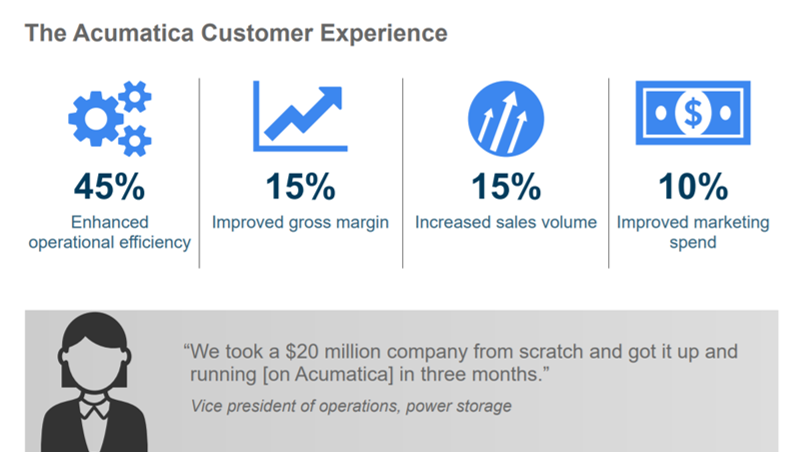 GROWTH SUPPORT
Acumatica's in depth reporting has been singled out as a key tool by companies, especially in regards to acquiring new clients. By giving teams access to in depth information about every aspect of their process Acumatica enables those teams to provide would-be clients a clear, accurate, and up to date picture of key metrics, benchmarks, and other data to assist in converting prospects in to clients.
EMPLOYEE SATISFACTION
Happy employees are hard working employees, and companies reported an increase in employee morale after switching to Acumatica. This is primarily due to two key factors- Acumatica automating several of the more monotonous tasks for employees, eliminating them from their workflow, as well as Acumatica's ability to offer insight in to what exactly each individual department and employee needs to fulfill their role. This insight allowed companies who switched to Acumatica to better equip their employees from the start, eliminating frustrations.
ONE SYSTEM- NO SWITCHING REQUIRED
Acumatica is a complete ERP solution, meaning that users have access to all the tools they need to perform their jobs within one program. This means that users are able to do their jobs quickly and efficiently, without having to log in and out of multiple programs.
FLEXIBILITY AND MOBILITY
Acumatica offers businesses a wide variety of improvements due to its cloud-based, agile nature. This allows its users to access vital system functions from anywhere via mobile devices or tablets, not just their work computers. This allows for greater productivity for businesses that require field-work, be that customer service or sales.
This flexibility also allows for improvements in other areas:
Companies can quickly scale their users based on need, eliminating downtime while users get added in
There is no per-user charge for Acumatica, allowing more employees to be set up in the system without increased costs, meaning all departments can be on equal footing
Acumatica is module based, allowing for the easy addition of new processes or systems to meet changing business needs- there is no need for a whole new system
A COMPLETE SOLUTION
By switching to Acumatica, businesses equip themselves with tools needed to serve their customers and employees better. Acumatica is a complete solution, serving every need a business can have. As a cloud-based, mobile friendly platform Acumatica delivers more tools and control to a larger number of employees than any legacy ERP system can offer.